This article is about 10 Things to consider to buy your domain name website and covers a very comprehensive guide on different aspects/scenarios to buy your domain name website
Want to buy a domain name?
To buy your domain name website the only thing we care about is where we can get it the cheapest.
Yeah, that's true, but one should always buy domains from a reputed Domain Registrar.
But before that, How to come up with a perfect domain name which will suit your requirement:
So, for that what you can do is look for similar words – synonyms which best describes – the type of content you will be putting up on your website or what your website will be all about.

Come up with few names and make a note of them.
First, check the availability of all of the shortlisted domain names on godaddy.com or any other similar domain search site.
I am sure If you are looking for a domain name then you would love to have your presence on some social media sites as well
So, next, start looking for social handles with the same name ( like mine is @rohutech for Instagram, Twitter, Facebook, Youtube ), if your domain name is your name then there won't be much problem because you might be already holding some social handle in your name. But if you want to build a brand with a name other than your own name then at times it gets difficult to get that one keyword as your social handle.
So, Check if the social handles are available with the same name.
If Available, that's when you start considering below points.
10 Things to consider before buying a domain name :

1. Free Domain Name
If you are someone who is a domain name trader, this point won't make much of a sense but for those who want to buy a domain and build a blog or website around it, for them its very important to know that many hosting providers give domain name for free if you buy a hosting plan from them. So, always consider this point if you planning to build a site around your domain name.
2. Hidden charges
On every domain registrar website, they will show you a minimum cost of the domain first and finally, at the checkout, several other charges are added like taxes or they might add some extra item to your cart (like privacy protection, .in domain, etc). In my case – I bought this domain name on namecheap.com and not to my knowledge I forgot to select the currency as Indian Rupees and bought the domain in dollars and landed up paying the exchange rate to the bank whose debit, credit or net banking you are using.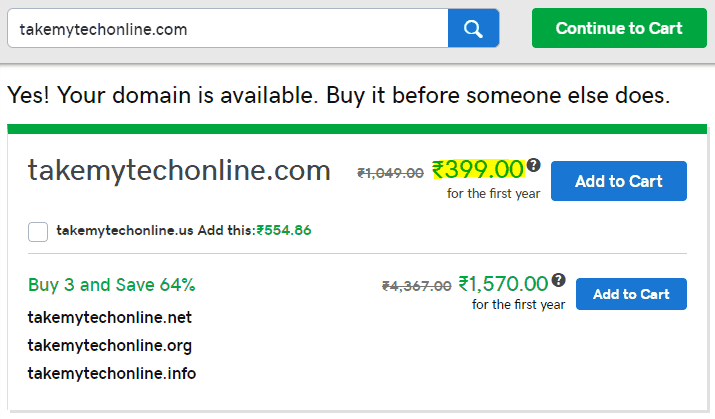 3. DNS Propagation
Most of the domain registrar take up to 48 hours but they don't really take that much time to propagate. On GoDaddy, it is just a matter of a few minutes for the nameservers to get reflected. My experience of Namecheap.com took my domain name more than 48 hours to reflect the nameservers added.
4. Free SSL
There are many domain registrars who will give you Free standard SSL (SSL is used to secure credit card numbers, passwords, and other sensitive data your visitors submit through your site.). So that your website can be accessed using https protocol as I have https://rohutech.com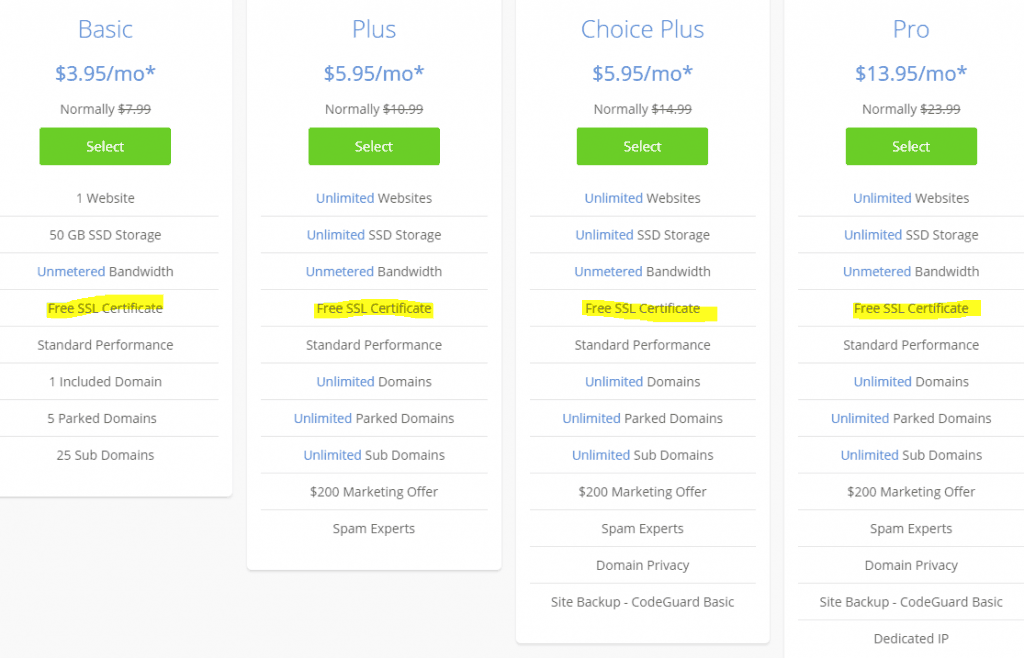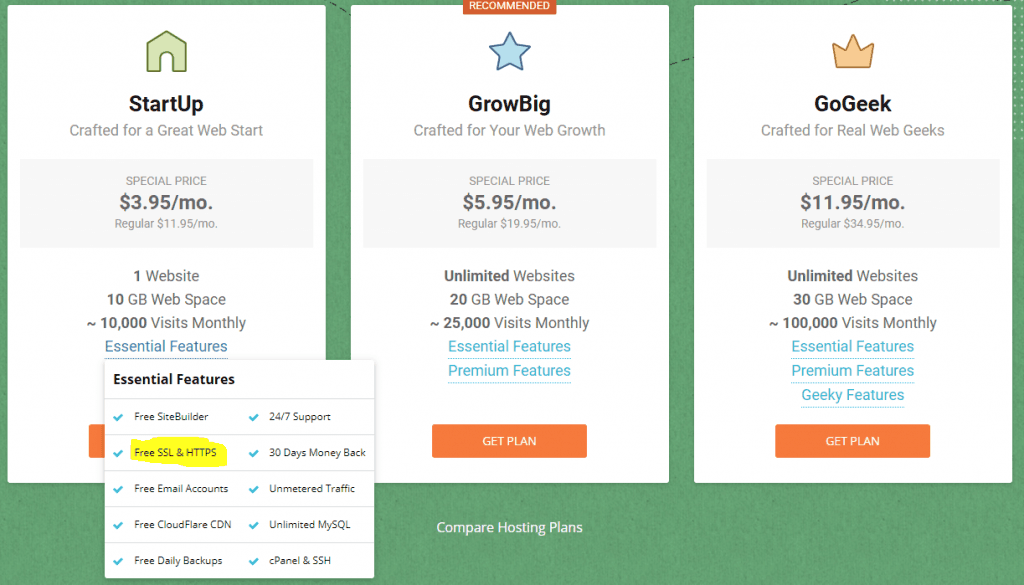 5. Free domain privacy protection
Then there are some domain registrars who will give you free domain privacy protection (which Hides your personal information – name, email, address, and phone number – in the public WHOIS directory, Prevents domain-related spam )
6. Free email address for your business
Few other domain registrars give you a free business email address like yourname@yourdomain. eg: Let's say, if you buy a domain example.com then you will get 2-4 or sometimes unlimited free business emails of your choice like support@example.com
Always try to get Top-level domain name -here is a list of TLD's, .com tops on the list of top-level domains – only if the keyword is really a common word which has a good amount of search then try to get an extension which is relevant to you like .in .store .info, etc.
8. Don't forget to use Coupons
Once you reach the checkout page of any domain registrar always look for coupons before checking out of the cart because there is always one or the other coupon available out there for you to get discounts. Like in google.com search for : bigrock new domain coupon feb 2019 bigrock domain renewal offer
What is Domain Propagation?
Domain propagation, also sometimes called DNS propagation, is the process of updating every server across the web with new information. That?s a lot of servers that require updating and, as such, there?s a lag between when the change is made and when all the servers have registered it.

Article from https://www.hostgator.com/blog/domain-propagation/
9. Customer Support
Another important factor, always check if you get prompt customer support for your queries, so for that before buying any product from any Domain Registrar, try to have a chat with their customer support and ask them to help you our with your requirement and you can ask them if they are running any offers so maybe they can avail you a coupon, if they reply you promptly then you can expect that they will surely make themselves available whenever you face any problem.
10. After Buying a Domain name
Make a list of domains you bought along with their expiry date in google sheet to keep a track of which domain is brought from which domain seller website and also on which hosting space it has been hosted along with username/password
My Recommendation For Buying A Domain Name Would be Namesilo
Recently came across another domain registrar whose name I had never heard before and that is Namesilo
Bought a few domains from this registrar and my overall experience was great.
It's just that while making payment, you have only following options
Some most important points to note about Namesilo –
Cheaper, $8.99 for .com domain (new and renewal)
no ICANN or transaction fees,
free WHOIS privacy,
free account security features,
two-factor authentication,
easy to use,
fast transfer,
free email forwarding,
support by FAQ library, chat, email, phone,
https://www.quora.com/Have-you-ever-used-NameSilo-as-your-domain-name-registrar
https://www.namesilo.com/
https://new.namesilo.com/pricing
https://www.namesilo.com/comparison/GoDaddy
I would recommend to watch this video for few more domain name buying tips.
Don't buy domain names that have a trademark in them.
Buy a domain from a reputable Domain Registrar.
Never use hyphens or any other special character in your domain name
My Experience
What I did before finalizing on my domain was as soon as I decided that I will be writing a blog on technical topics. I came up with different possible names which will either sound technical or might even have technical term within the name.

So I came up with few names like Rohutech, Rohandroid.
Both the names have my name in it as well as it has a technical essence that there is something related to tech and since I had this name in my mind for a long and I had set my phone's name as Rohandroid to discover it on the network, I went ahead with Rohandroid.

But before finally freezing on the domain name – I had to check if I will be getting the same name for my social handles, so looked for their availability on Twitter, Instagram & Facebook and when I found out that they were not available, I was disappointed. So I was about to drop the idea of Rohandroid and go with Rohutech but then thought of just appending a keyword 'blog' at the end of all the social handles for Rohandroid. Hence created social handles. And that's how I finally thought that this is the time I had to book this domain.
Just an update stating that When I wrote this article I had bought rohandroid.com and I published this article on rohandroid.com but after a few weeks I moved my complete blog from rohandroid.com to rohutech.com. I will try to cover that story in some other article.
Thank you for reading. I hope, I have added some value to your knowledge about domain names. If you like this article "10 Things to consider to buy your domain name website", please share it with your Friends or whoever you know, who are planning to buy a domain name.
Your feedback is precious. Please let me know your views on this article through comments.